10.20.19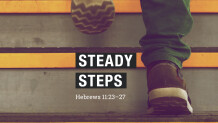 Speaker: Curt Sparkman
Deciding to take a next step is an exciting place to be. When we seek the Lord and believe we understand what step He is leading us to take, we find a renewed energy and focus. The difficulties come up down the road when taking those steps begins to have a cost. It could be an emotional, relational or physical cost, but in making any step forward there is something else we have to lay down. We understand the reward is greater than the cost, but it is still hard. Thankfully the Lord has provided all we need to continue taking steps forward toward Him regardless of the challenges in front of us.
Faith focus for the week:
As you look at the next step you have committed to taking, what do you need to entrust to the Lord so this step will be sustainable over the long term? Pray and ask the Lord to provide the perseverance needed to keep walking toward Him and to not grow weary.

What fears hinder your ability to move toward the Lord? What would it look like to entrust these fears to the Lord and start walking toward Him in the midst of the fear? Confess these fears and confess your need for the Lord's strength to move forward despite them.

Recall a time in your life where your faith was strengthened in difficulty. Spend some time thanking the Lord for walking with you and growing you in the hardest of days.
Steps toward living on mission this week:
Come up with ways you can move toward the Lord and prepare for ongoing perseverance in your walk with the Lord (i.e., read the Bible, memorize verses, patterns of prayer (confession and thanksgiving)). Create a realistic plan for incorporating these into your daily life.

Talk to a close friend and share with them what your next step is and ask them to help encourage you and keep you accountable in this next step.

As you go about your daily routines, intentionally think about all that is to come when we are with the Lord and allow that to motivate the way you live that day.