10.27.19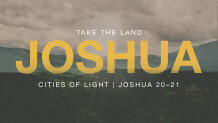 Series: Joshua
Speaker: Kevin Ueckert
God's plan for the Promised Land included Levitical cities scattered throughout the land so that everyone lived in proximity to the Levites.
Faith focus for the week:
Praise God for His mercy given to you through Jesus Christ. Spend time this week praising and thanking God for the gift of salvation and mercy He has given to our church family.
Reflect on what it means to live in God's mercy, while trusting in the justice of God that is found in Jesus Christ. Read Romans 3:21–26 and reflect on the glorious truth of mercy and justice found in Jesus Christ.
Consider that you live where you live to be salt and light to those living in proximity to you. God has placed you right where you live so that you might help others know and follow Him. Read Acts 17:26–31. God's plan for those around whom you live is that they repent and believe in Jesus. You, as a part of His church, are the way that others can know how to repent and follow Jesus. Pray for those around you and your role in helping them find God and follow Him.
Steps toward living on mission this week:
Be salt and light right where you live and work this week. Share the gospel with someone in your life this week.
What can you include in your normal rhythms of life this week that involves a fresh effort to share the gospel with someone who regularly appears in your life rhythm?
Seek out the people who need to hear and see God's mercy and justice found in Jesus Christ. Pray for them. Pray that our church will have the courage and boldness to be salt and light to our community in Williamson County.
Add some extra prayer time this week to your FBG Discipleship Plan. Pray for someone living in proximity to you and/or your family.