11.03.19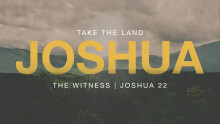 Series: Joshua
Speaker: Kevin Ueckert
Jesus tells us that our witness to the world is our love for each other as followers of Christ in our homes, in our churches and in our workplaces. John 13:35: "By this everyone will know that you are my disciples, if you love one another" (CSB). When the world knows that we follow Jesus because of our love, the world will see the love of God. Romans 5:8: "But God proves his own love for us in that while we were still sinners, Christ died for us" (CSB). Our love for each other is our witness of God's love for the world seen most clearly in Jesus Christ.
Faith focus for the week:
If you have unresolved conflicts, misunderstandings or broken relationships in your life, submit those challenges to the Lord today and each day this week. Spend time each day in prayer for those in your life with whom you need reconciliation.
Choose the path of humility, forgiveness and reconciliation rather than fear, frustration or anger. Talk with a trusted friend who might help you find paths of humility, following Jesus Christ toward any reconciliation that you need in your life.
Read passages in the Bible about God's love for you and forgiveness of your sins. These passages can be a great motivation for reconciliation with others (Ephesians 4:32; Colossians 3:12–17; 1 Peter 3:8–9; 1 John 1:9–10).
Steps toward living on mission this week:
Who do you need to reach out to and humbly work with to restore relationship? Make a plan to reach out and listen, love and serve.
Make sure that others closest to you like your parents, spouse, children or close friends feel like your relationship with them is right before the Lord. Ask them the questions, "Do you feel loved by me and supported by me? How and when do you feel loved and supported the most?"
Consider the benefit of humility in all your reactions and interactions with those around you as a way to show others Christ's love. Make a decision to choose humility in a key relationship this week. Share that decision with a prayer partner who can follow up with you about what God has done.
Tell the story of Christ's love experienced in humility to someone this week.