07.23.17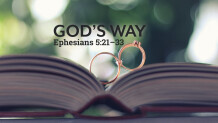 Category: Discipleship, Hope
Speaker: Kevin Ueckert
Tags: joy, life, bible, god, power, perspective, ephesians, marraige
God's Way
Ephesians 5:21–33
Standing in stark contrast to the ways of the world, devotion in Christian marriage is based more on an individual's relationship with Christ than it is on the behavior of their spouse. This is a profound testimony to those around you that your marriage is a picture of the good news of the gospel. This week during your prayer time, ask the Lord to instill in you the desire to honor your spouse by submitting to Jesus and His plan for marriage. Make a plan this week to display honor and value to your spouse in some very specific and measurable ways. Ask your spouse what he or she thought of your efforts. Plan a date night to talk about how to keep on growing in your marriage relationship.
If you know someone who is struggling in their marriage, in some specific ways this week, encourage them to look for the satisfaction that comes from the love of Jesus Christ even when their marriage is struggling. When we find our satisfaction in the Lord, we find what nothing else can offer and are empowered to live in such a way that we can love our spouse unconditionally, as Christ loves us.
As Christians, your marriage is about something bigger than just you, your spouse and your family. Since marriage is symbolic of the relationship between Jesus Christ and the church, Christ's reputation is at stake. Because the proclamation of the gospel is at stake with your marriage, please be reminded that God is for your marriage more than you could ever know. If you are struggling in your marriage, God is for your marriage. Everyone who is married goes through times of challenge in marriage. You are not alone. Reach out to a friend, pastor or a counselor if you need help.
If you are single, align your life with God's plan and will, trusting Him to use you in very significant ways. While one of the gifts of marriage is being able to proclaim the gospel through marriage, one of the greatest gifts of singleness is being able to proclaim the gospel through the devotion of your time and energy for the Lord in ways that married people cannot do. Seek to live for Christ in whatever situation of life you are in.
If you have questions or need prayer, please contact us at